One of the curious shifts that have occurred in my switch out of academia is the rhythm of the year. Normally at this time of the year, with classes done and the marking session for an education group I worked with almost over, my thoughts would be square on getting some writing done. But now, working in the world of academic consortia and with my executive clients, the focus is on "the return" … in so many ways, everyone is already focused on the Fall. In conversation with friends still teaching, I've noticed a great deal of worry about how the incoming students will navigate the social and academic shift into the first-year experience.
There are, of course, so many factors at play that expose the inequities and challenges not only of the pandemic-year but also of America's secondary education system. There's also a lot to worry about, in terms of their social and affective experience, with this generation of student who, like GenZ, have lived with incredibly high levels of anxiety and other kinds of mental dis-ease.
There is a great deal of attention on traditional age students, rightly. But there is also an upward trend of returning and mature students in American higher ed, and these students represent a significant market share in a time of declining numbers of traditional age students. With services so focused on the younger students, what can we do to help the non-traditional students?
I keep thinking about a study I read in 2019, showing a correlation between emotional well-being and academic outcomes in mature students. Our focus, around issues like these, is often on threat and the negative factors that affect student outcomes. But Geertshuis (Active Learning in Higher Education, Vol. 20(2) 153–166), like others studying emotional intelligence in the organizational management and positive psychology fields, is operating under the premise that the dimensions of emotional well-being, in their positive and negative (or activated/deactivated) states, are all critically important for success (academic or otherwise).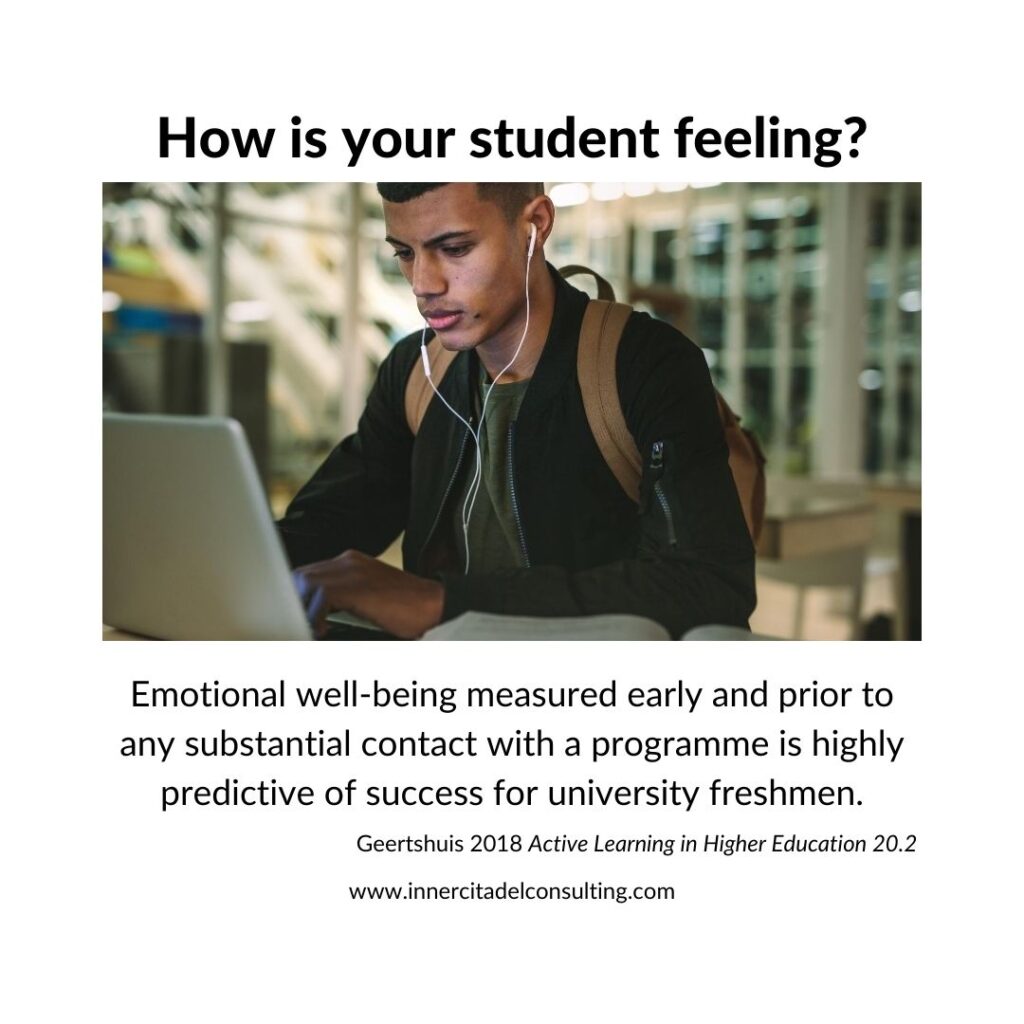 Now, even though the evidence is overwhelming, this is not particularly surprising nor particularly useful in thinking about how to proactively help students. One of the things Geertshuis showed in her study, however, was that emotional well-being measured at the beginning of the first semester at university was predictive of learning behaviors, affect and academic achievement. "At the beginning". How much would the game change if we could administer a fairly simple and easy EI self-assessment to incoming students, and use those data (with other data) to increase our awareness of "at-risk" students?
The findings of this first semester study are compelling. For example, Geertshuis measured six variables (proactive learning behavior, self-directed learning, mastery approach, mastery avoidance, feelings of belonging, desire to leave, satisfaction, and academic achievement) against standard measures of well-being and found that the positive well-being measures were highly predictive of all the variables except mastery avoidance and satisfaction – emotional well-being assessed at the beginning of a programme (before substantial contact) is predictive of a broad range of outcomes at the end of the first semester for these mature learners.
Well-being measured at the beginning of a learner's programme can be part of the data that help institutions to identify at-risk students and to direct resources and support where it is needed the most. When you correlate this kind of finding with studies that show how critical that first semester and first year are for belonging and retention, not just academic success and socialization, the implications are staggering. In a time when EI assessments (like the Genos International self-assessment) are proven to be robustly reliable and valid, and in a time when a short assessment in orientation could also lead to a good conversation about well-being, mindfulness, and mental health, why wouldn't we adopt one more approach that can build our capacity to provide students with the support they need to be successful … and feel like they belong?